Persian Gulf refineries process 6.4 Mln bpd of crude (Report) (S)
Sunday, September 14, 2014
The latest Joint Organizations Data Initiative (JODI) statistics reflect the beginning of a major ramp-up in Saudi refining capacity and also the start of a collapse in Iraqi refinery ...



Challenges & opportunities of Turkmenistan market for Iranian firms (Report) (S)
Saturday, September 13, 2014 (IranOilGas.com)
Last month, an exhibition was held in Turkmenistan attended by Iranian firms - especially in oil and gas field. Visiting this exhibition, Turkmenistan president called Iran ...



Vulnerability assessment of Iran policies in downstream petchem (Analysis) (S)
Wednesday, September 10, 2014 (IranOilGas.com)
Iran downstream petrochemical industries are currently active at a 40% nominal capacity on average. In recent years, there has been news on losing a great number ...



US LPG exports boom; a threat to PG exporters (Analysis) (S)
Wednesday, September 03, 2014
Future North American LNG exports present an emerging threat to Qatar, which will face growing competition in the Asian market ...



GTL back on the agenda of Mideast downstream planners (Report) (S)
Tuesday, September 02, 2014
Gas-to-liquids projects are back on the agenda for Middle East downstream policymakers. Iran and Saudi Arabia have all announced GTL initiatives, with newly-available ...



Iran upstream opening to IOCs tied to the fate of nuclear talks (Report) (S)
Tuesday, September 02, 2014
A London conference to unveil Iran's new oil contracts has been delayed to February 2015, the fifth postponement of an event Iran hopes will breathe new life into its upstream ...



Typical challenges of Iran refining industry (Analysis) (S)
Saturday, August 30, 2014 (IranOilGas.com)
After the privatization wave, expansion of crude oil refining capacities in Iran started to face numerous challenges and obstacles on the way. In order to overcome these challenges...



Oil and gas companies shift attention from Mideast (Analysis)
Monday, August 18, 2014
Following four decades of war, sanctions, nationalization and unrest, oil and gas producers are gradually adjusting to rely less on the Middle East ...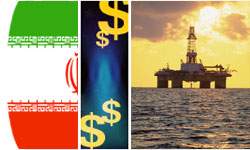 Iran challenges in attracting foreign investment (Report) (S)
Wednesday, August 06, 2014 (IranOilGas.com)
... head of 'Iranian & Foreign Joint-Venture Investments Association' (IFJIA) talked of the foreign investment status in Iran and its challenges ...



OPEC's MENA refining capacity expanded (Report) (S)
Sunday, August 03, 2014
... Although OPEC products demand raised by 4.1% last year and Persian Gulf demand is expected to continue growing strongly, much of the new refining capacity will target ...



Emergence of Iranian-Turkish energy partnership (Analysis)
Sunday, July 20, 2014
... growing energy cooperation between Iran and Turkey will 1) allow Tehran to leverage its energy resources, 2) permit Ankara to maintain its economic growth, and 3) enhance European energy security ...



Iran NITC still to overcome obstacles under sanctions (Report)
Wednesday, July 16, 2014
Iran's main oil tanker firm NITC will struggle for some time to call at European ports, get foreign insurance and overcome obstacles under western sanctions, even after a top court has annulled its blacklisted status in the European Union ...



Iraq's oil industry caught in the crossfire (Analysis)
Monday, July 07, 2014
While the mayhem and political impasse go on in Iraq, it is not possible to underestimate the impact on the domestic market and crude oil prices in the world ...



A glance at Oman oil and gas upstream in 2013 (Report)
Monday, June 30, 2014
The hydrocarbon sector of Oman remains the dominant economic sector accounting for 49.7 per cent of the nominal GDP in 2013 when it was 51.6 in 2012 ...



Investment opportunities in Iran ICOFC boosting stations: (Report) (S)
Sunday, June 29, 2014 (IranOilGas.com)
Iranian Central Oil Fields Co. (ICOFC) has introduced some investment opportunities provided by ICOFC for the construction of gas pressure boosting stations and gas gathering stations ...